The text of the German LutherBibel. This is an add-on module for HolyBible and requires a

BasePack to be installed first.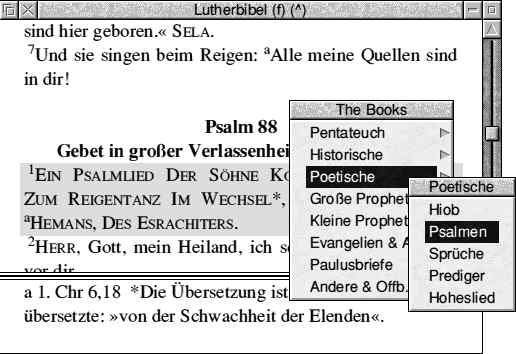 For a more full explanation of the features of the HolyBible window, click

here to see a larger screenshot of the display.
The high-quality text is fully typeset with attached footnotes. The verses are internally renumbered to the UCN standard utilised in HolyBible to preserve correct parallel tracking between versions having different chapter/verse numbering or order.
The LutherBibel module is published under licence from Die Deutsche Bibelgesellschaft, Suttgart (German Bible Society); all rights acknowledged


Order as HolyBible; German Luther Bible add-on module
For licensing reasons this pack is available only to special order. You will be supplied with two copies of the text, one of which isn't used, but equates to your having purchased the correct licence. The other copy is installed within HolyBible in the usual way.
Pricing varies according to exchange rates, but is of the order of £75 +VAT
Contact details for ExpLAN Computers Ltd can be found on the

ExpLAN homepage.


To top