21st Century Edition
The New Bible Commentary is a high quality Bible resource tool, much favoured by the serious student and Church Minister. It has a consistent editorial style and draws its articles from many of the foremost authorities and scholars of an evangelical viewpoint.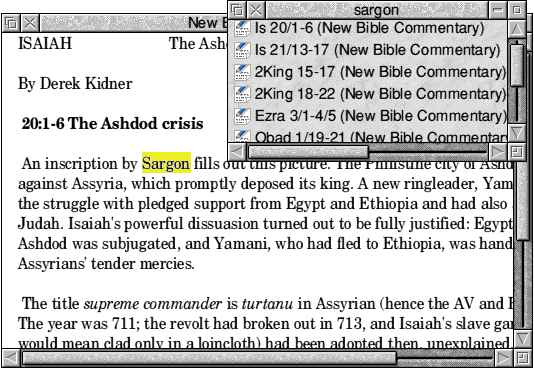 Within HolyBible the New Bible Commentary is presented as a single Resource with over 2000 separate entries. All of these are tied to the relevant text passages and will appear automatically in the Resources window when a passage is being viewed.
The text may be searched for words and phrases as shown in the picture above, where a search for "Sargon" has found a number of articles.
The New Bible Commentary may be used alongside any Bible version, although it draws many of its quotations from the RSV and NIV.
ExpLAN is indebted to Rev Colin Randall for his time and patience in compiling this material, and inclusion of the appropriate hotlinks between articles.
The New Bible Commentary is published under licence from Inter-Varsity Press; all rights acknowledged


Order as HolyBible; New Bible Commentary add-on module
| | |
| --- | --- |
| Single-user licence: | £ 30 + VAT |
| Site-licence; Schools and Colleges: | £ 60 + VAT |
This is an add-on module for HolyBible and requires a BasePack to be installed first.
Contact details for ExpLAN Computers Ltd can be found on the

ExpLAN homepage.


To top