Specifications
Prototype Mark II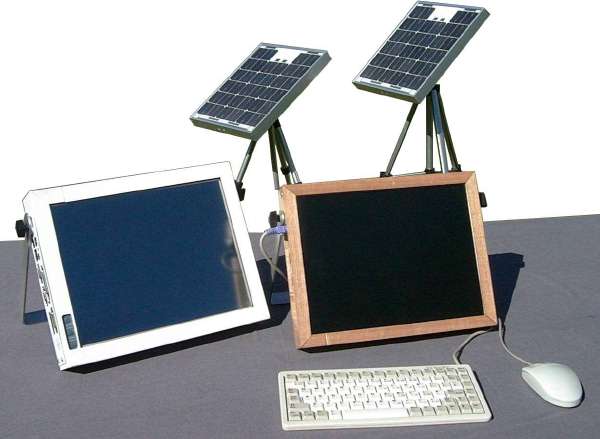 | | | | | | |
| --- | --- | --- | --- | --- | --- |
| | Dimensions; (overall) | 386 x 278 x 54 mm incl stand 345 x 274 excl* | | Screen size; | 14.1" (36cm) diagonal |
| | Screen type; | TFT Liquid crystal | | Resolution; | 1024x768 (XGA) @ 256 colours |
| | Processor; | ARM 7500# | | Operating system; | RISC OS and/or Linux in ROM |
| | Memory; | 32Mb RAM, 128Mb max | | Storage; | 256Mb Compact flash or 1Gb Microdrive |
| | Power; | 6-30v AC or DC @ 12 WATTS | | Battery; | Internal 2Ah lead-acid or NiMH; external lead-acid |
| | Weight; | 4 Kg plus keyboard, solar panels etc | | Ports; | parallel, serial, PS2 keyboard, mouse, 10baseT Ethernet, (USB, PCMCIA+) |
*The Solo case has a standard 75mm VESA mount and may optionally be held by a wall bracket or desk-top arm.
#Production units will offer an ARM 9 processor option
+USB port and PCMCIA not fitted on the Mk II prototype.


LCD screen size: 8.4" or 10.4" @ 800x600; 12.1", 13.3" or 14.1" @ 1024x768 (XGA). The smaller the LCD screen, the less power is required to run the Solo. A minimum of one 10w solar panel is required for screens up to 12.1" in full sunlight.
Input devices: Keyboard, mouse and touch-screen options are covered on the Input devices page.
Case material: wooden, with optional outer layer of Dibond aluminium composite (Alusuisse). Refer to the Design & Construction page. Other case materials on request.
Storage: internal; Compact Flash or IBM Microdrive up to 1Gb. external; Compact flash via optional PCMCIA interface.
Battery: internal 12v lead-acid 1.2Ah or 2Ah, or 2Ah NiMH (Nickel metal hydride)
Solar panel: Polycrystalline or amorphous silicon. The former are more efficient per m2 in full sunlight, but amorphous silicon units are 'shadow tolerant' and can also be supplied in a flexible variant. Guide-price is £100 ($150) for 10w.


Solar panel

A 10w mono-crystalline PV (photovoltaic) panel driving a Solo prototype Mk I near Kihihi, Uganda, March 2001.

Two such units will provide sufficient power at 16.4v to continuously supply a prototype Solo computer and dump excess energy into a storage battery for use at night. Production computers may require only one such solar panel, depending on the choice of screen-size.

The intelligent power supply in the Solo will continue to operate when the computer itself is 'off' and can be used to store energy in any lead-acid vehicle battery that is connected.
The choice of power sources is wide. Any AC or DC supply from 6 to 30v will be capable of driving a Solo. Any shortfall in the power required is made up from the internal or external batteries. Excess available power is stored back in the same batteries.
In the event of a complete power failure, and the user giving no response to on-screen warnings, a 'last resort' battery within the Solo itself will close all open files and shut down the computer cleanly.
See also the information on

Environmental issues and the Solo computer strategy.