Kyocera lasers use a ceramic (amorphous silicon) drum, rather than coated aluminium, which means that it's expected to last for the printer's lifetime (at least 100,000 pages). This produces a very low cost-per-page, and makes them a good match for RISC OS computers.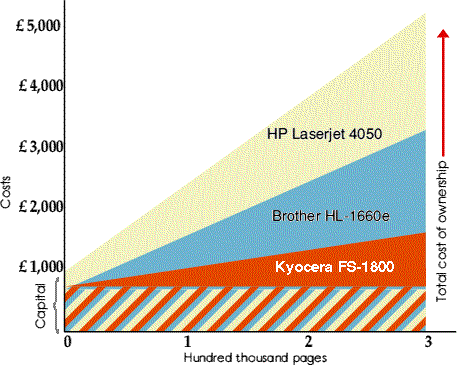 Most Kyocera's run a language called KPDL which is an almost perfect match for PostScript®. They have other emulations, including PCL5e and we also program them directly using PreScribe for administration command sequences.
PostScript® is registered trademark of Adobe Corp.


Kyocera's ultra-fine toner gives a very even spread of greyscaling which is especially good at not producing an "over-darkening" effect at 80% black and above - a common problem on other lasers. For the 1200dpi printer engines, the greyscaling calculations are done at 2400dpi and thence printed via a pixel-doubling technique (like LaserDirect). To the human eye this appears as black dots and grey dots.

The toner used by Kyocera is completely non-toxic and non-carcinogenic. Unlike most other manufacturers' toner no special precautions need be taken when disposing of empty toner cartridges.
And because the printer engine is 'sealed for life' you're not throwing away an expensive drum each time you add fresh toner either!

And to save even more energy and help conserve precious resources you can tell the printer to go to sleep when you're not using it.
A typical FS-3750 model uses 129 Watts when idle, but a meagre 16 Watts when asleep. The FS-1200 uses even less - a miserly 12 Watts.
Installing ExpLAN's RISCOS drivers will automatically set the sleep timeout to 15 minutes, but you can decrease this further if desired. And when you send data to the printer then it'll automatically wake up and start printing again after its warmed up - a delay of typically 30 seconds or so.

For information on energy-saving monitors see

LCD screens.
For information on the new ultra-low-power computer, see the

Solo pages.
Back to the

Kyocera printers main page.
Contact details for ExpLAN Computers Ltd can be found on the

ExpLAN homepage.


Back to the top of the page.