Duplex printer enable you to print on both sides of the page without you manually having to turn the paper over. Prices for duplexing systems vary considerably from one manufacturer to another.
It is very rare for ExpLAN to be able to offer

B-grade duplex units, because they are less common than B-grade printers as they tend not to go wrong! Prices are as follows:
| | | | |
| --- | --- | --- | --- |
| | | FS-800, FS-1000(+); | No duplex available |
| | | FS-1200; | DX-12, £429 +VAT |
| | | FS-1700+, FS-1750, FS-3750; | DX-21, £419 +VAT, B-grade £329 +VAT |
| | | FS-6700 (A3); | DX-25, £359 +VAT, B-grade £250 +VAT |
| | | FS-1800, 1800+, FS-3800; | DU-60, £199 +VAT, B-grade £174 +VAT |
Installing a Duplex unit often requires extra memory in the printer. We recommend a minimum of:
| | | | |
| --- | --- | --- | --- |
| | | 600dpi models; | 8Mb upgrade: £21.50 +VAT (fitted) |
| | | 1200dpi models, FS-1750 & 3750; | 16Mb upgrade: £37.50 +VAT (fitted) |
| | | FS-1200, FS-1800, FS-3800; | 8Mb upgrade: £26.50 +VAT (fitted) |
Technical overview
Duplex units are motor-driven, and look like an extra paper tray below the printer. The rollers and platens are generally earthed to the same point as the printer's drum to avoid picking up a spurious static charge, which would otherwise attract stray toner onto the reverse of the paper. This is why you often get 'dirty' leading edges to pages which you've turned manually and re-fed, rather than using a proper Duplex unit.
There's more to Duplexing than meets the eye. On some models you can select Duplexing from a front-panel menu, but ideally you should use a RISC-OS printer driver which has the "Feeds" commands supplied ready for your particular model, as these can differ. ExpLAN supplies a suitable driver with each Kyocera printer as standard.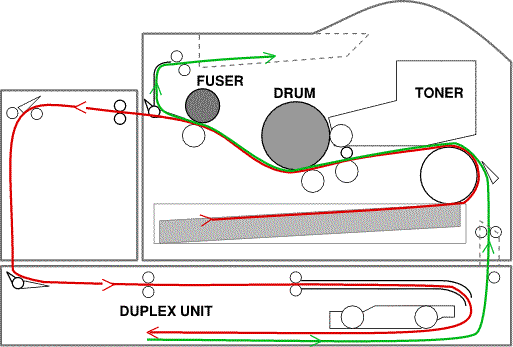 There are two different page orientations for duplexing, based on the way in which the software image is 'turned' in memory. These are referred to as Long-edge and Short-edge Bind, and are basically equivalent to Portrait and Landscape mode.
Additionally most printers actually print the flip-side first then the front-side of the page, so that it comes out in the correct order on a face-down output tray. Both images are held in memory simultaneously, and the flip-side of the second sheet is actually printed whilst the first sheet is being 'flipped' in the duplex-drawer!
Obviously you must have sufficient memory for two page images at full resolution (3.65Mb per A4 600dpi), plus space for any soft-loaded RISC OS fonts, plus some spare for the calculations needed to drive the Duplex operation.
Beware that your application software must be Duplex compatible too. Both EasiWriter-Pro and Ovation-Pro claim to be, but Impression doesn't get it right in pamphlet mode unless you're only doing 1 sheet of paper (4 A5 sides).
Back to the

Kyocera printers main page.
Contact details for ExpLAN Computers Ltd can be found on the

ExpLAN homepage.


Back to the top of the page.