Protection components for computer networks
To prevent damage to electronic and computer equipment caused by
Normal mode surge (transverse voltage): commonly caused by inductive spikes from stopping of motors and switching operations, or galvanic transmission from blowing of projector bulbs etc.
Common mode surge: usually induced by remote lightning strikes and surges on the electricity distribution system external to your site
ValveTrab is a medium-suppression surge arrestor for buildings containing computer networks. Valvetrab units are fitted to the mains electricity distribution board and will quench over-voltages between phase/neutral and earth.
The two-part design facilitates removal of the arrestor for testing or replacement without interruption of the mains supply.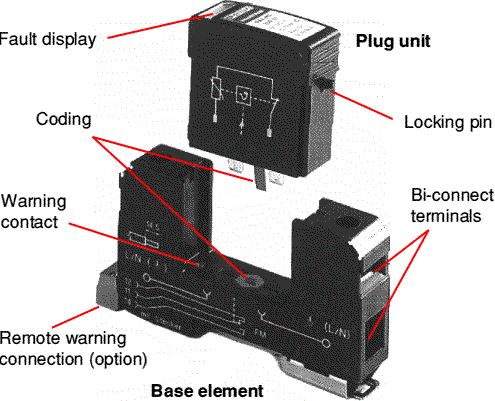 In the event of serious overload the varistor unit will self-sacrifice and disconnect itself from the circuit. This is indicated in an integral display window, and can be signalled remotely if the installation utilises base elements incorporating remote-warning contacts.
ValveTrab units are available for a wide variety of supply voltages, and are manufactured with many different quenching characteristics and operation times.
Initial fitting of these units requires isolation of the mains power distribution board, and should only be carried out by professionally competent and qualified personnel.
Subsequent replacement of ValveTrab units which have blown sacrificially can be done without the need to power down the electrical supply to the building, and without having to employ the services of an electrician. The old unit is pulled out and a new one inserted into the socket.
DIN-rail mounting, 1-module width.
If used to protect circuits of >125 Amperes, the ValveTrab(s) must be sub-fused to 125A or less.
leakage current: < 0.3mA
nominal discharge current isn (8/20 microseconds): = 15KA
max surge current is max (8/20 microseconds): = 40KA
response time ta = 25nS
remote warning contact rating 1A @ 240v AC / 0.2A @125v DC
temperature range: -25 to +75 °C
Manufactured in Germany


ExpLAN offers the complete range of over 150 ValveTrab suppression components. However the following devices are most likely to satisfy the requirements of the average computer network installation.
Order as:
| | | |
| --- | --- | --- |
| VAL-MS 230 ST | anti-surge plug | £ 64.44 + VAT |
| VAL-MS BE | base element | £ 13.86 + VAT |
| VAL-MS BE/FM | base with remote contacts | £ 29.88 + VAT |
| FLT 60-400 | FlashTrab coarse protection | £ POA |
You will require in each Distribution Board, one ValveTrab for neutral and one for each phase. Thus a 3-phase Board requires 4 units.
Price includes advice and instruction on fitting, which must be carried out by a suitably qualified electrician.
Contact details for ExpLAN Computers Ltd can be found on the

ExpLAN homepage.


To top